So my first shout-out goes to local Chicago rising stars, ishi vest.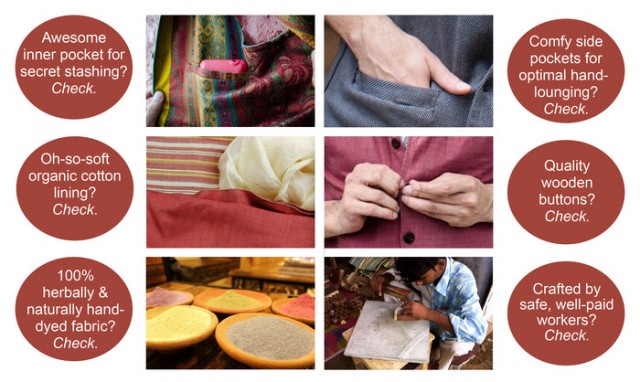 Ishi grew out of founder Harishi Patel's organizing and advocacy in India, where he worked with cotton farmers. Cotton farmers in India, a leader producer of cotton, have had it very hard as of late. Essentially, many have switched from traditional, organic farming practices to conventional practices that rely on heavy use of insecticides and pesticides. While the switch to conventional cotton farming typically leads to increased yields at first, it is typically followed by lower yields, higher debts, and often severe health problems due to exposure to pesticides and insecticides. Farmers often end of losing their lands, and farmer suicides in India have been rampant as a result.
So Harishi decided to create a market for organic cotton products, and created the ishi vest line with the help of several other collaborators. I think their business model is very smart–they started with one product, a man's vest, and honed and perfected it. Ishi not only uses organic cotton, but also uses natural dyes to color it, since synthetic dyes are also hugely detrimental to the environment, as well as connected to a rise in health problems for workers exposed to the dyes. (The EPA actually forbids the use of many of dyeing chemicals in the US. While that's helped to greatly improve the quality of our air and water, the fashion industry has simply outsourced the use of these toxic chemicals to countries with laxer regulatory measures, rather than eliminating the use of toxic chemicals). Ishi also promotes transparency in its supply chain, so you evaluate for yourself the quality and source of their product: their fabric are sourced from an ethical business called Aura , who also cuts and sews their products.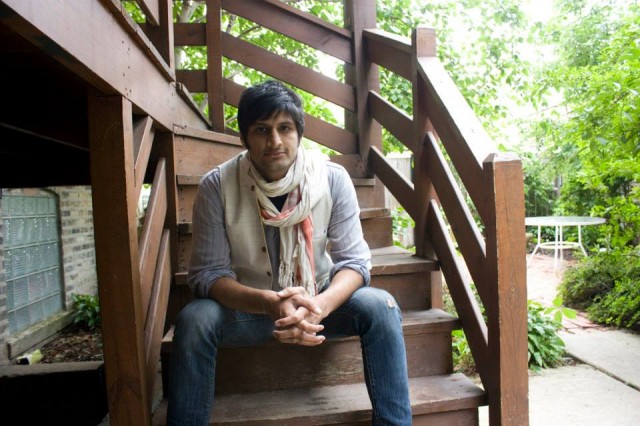 ishi vest Founder, Harishi Patel,  sporting an ishi vest and scarf
Another smart move on the part of ishi vest: they are launching their line through a Kickstarter campaign. Personally, I've got a bit of Kickstarter fatigue. But when it comes to fashion, I still think it's a great model for the following reasons: (1) most contractors won't cut and sew small orders. (2) contractors require payment for their services when complete–often long before a brand is able to sell their product. Basically, if you're not flush with cash, it makes it very difficult to start a fashion line, especially since, even in the feast years of the US economy, very few financial institutions lend to fashion startups. Now that we're in lean times, it's near impossible to obtain funding. (3) Ishi's already successful Kickstarter campaign has shown that there is a niche market for their vest, which can only help the ishi folks with sales/expansion down the line.
So if you're looking for a high-quality, unique, ethically made vest, check out the Kickstarter page and place your order. Ishi is way underselling these at $55/piece. I'm sure those prices won't last, especially as they sell their products wholesale (vs. direct to customer) down the road.  I've seen the products in person and I really dig the Nehru collar, the long, slim cut, and the naturally-dyed fabrics which are richly variegated. If you're not in need of a vest but still want to support, ishi scarves, notebooks, and pins are also on offer.